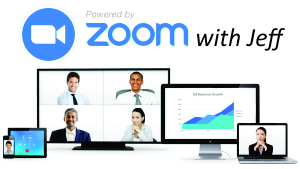 Jeff Sawyer will go over your listing via Zoom.  You will both take a detailed look at your listing, check for any errors or missing listing details, review photos, and more. It's an excellent opportunity to assure your listing looks and represented in its best light to the public. After all, we are partners together selling your property.
Key summary points Jeff will cover:
Show you how your listing is displayed (in the MLS) to other real estate agents; How they from they see it presented to them; This is a different perspective than the public can view.
Show you where your home/property is currently (or scheduled to be) advertised; In print, online (local and National websites), and the 3D-virtual tour.
Go over your Seller Gateway; It's very important that you know how to access this valuable online portal.
Open discussion on how we can improve your listing and any strategies to implement moving forward as we get past the COVID-19 pandemic.
What to expect from your Zoom Meeting
Zoom is a video conferencing service. You'll be able to see Jeff live (on video) and have a two-way conversation with him. However, you do not need to be on video unless you elect. Zoom works with any smartphone or computer; Using a desktop or laptop is a better experience for you because Jeff will be showing you documents, websites, photos, and more all live. It's like you are there in his office but in the comfort (and safety) of your own home. It's very simple and easy, perfect for those "technology challenged."  You can do it! 🙂